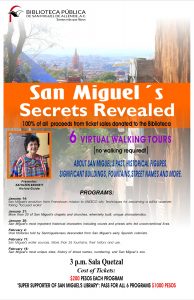 SAN MIGUEL'S SECRETS REVEALED:  FIRST VIRTUAL TOUR
                                                JANUARY 14, 3-4 P.M.
                                                        by Kathleen Bennett
        The first of six virtual walking tours exploring San Miguel de Allende's adventurous past  will be
presented 3-4 p.m. Tuesday, January 14, in the Library's Sala Quetzal.  Initially many who arrive to
this beautiful UNESCO World Heritage city are dazzled by its glorious architecture, traditional fiestas,
abundant music and cultural events.  Eventually most want to investigate more deeply the background
of specific buildings, important historical characters, why multiple churches, fountains, and
parks were developed.  These six virtual tours will explore San Miguel's cultural, religious, and 
political past.  Absolutely no walking is required! 
     January 14's virtual tour will focus on techniques for becoming a more astute observer of San
Miguel's historical treasures.  Do you generally take the same routes during your daily errands?  Do
you walk on the same side of streets?  Are you talking to others when walking?  Do you stop and shift
your eyes upward to the niches, statues, crosses and writings containing many clues about the city's
past?  Become better prepared to observe  more deeply San Miguel's plethora of historical riches.
        This first virtual tour also explores San Miguel de Allende's origins from the Chichimecas,
known as  "Dog People", who  resisted  Spanish settlement and Catholicism. Why was
the first mission, San Miguel de las Chichimecas, moved to the present location?  Which events most
influenced Ignacio Allende, Father Hidalgo and other insurgents to start the War of Independence in
1810?  Five additional virtual tours explore San Miguel's evolution:            
January 21:  San Miguel's churches and chapels: why, when, where built
January 28:  San Miguel's most important historical figures: stories of intrigue, witchcraft
February 4:  Oral History by Descendants of San Miguel's oldest families
February 11:  Beautiful Fountains and the History of Water in San Miguel
February 18:  San Miguel's Street Names, Most Unusual Sites, and Zoo
      100% of all  ticket sales benefit San Miguel's Library that provides  free art, music,
English and technology classes for San Miguel's children.  Purchasing a Super Supporter Pass for 1,000
pesos  insures priority seating at all virtual tours.  Individual tickets are 200 pesos   Advance tickets
are available at the Library's East Entrance Desk.    Thank you for your support of our wonderful
Biblioteca. 
THE  SAN  MIGUEL  POETRY  WEEK READINGS AT THE SANTA ANA THEATER IN THE BIBIOTECA
Saturday, January 4 – 7PM:
CAROL FROST
LUIS ALBERTO URREA
 Monday January 6  -7PM
TONY BARNSTONE
SHOWCASE POETS
 Tuesday, January 7 – 7PM
PEDRO SERRANO
JAMES FENTON
Wednesday, January 8- 7PM
PARTICIPANTS' READING
Contact:  poetryweek@aol.com
TONY BARNSTONE is Professor of English and Environment Studies at Whittier College.
Among his awards are the Poets Prize, Grand Prize of the Strokestown International Poetry Festival, the Pushcart Prize in Poetry, fellowships from the National Endowment for the Arts, the National Endowment for the Humanities, and the California Arts Council, the Benjamin Saltman Award in Poetry and the John Ciardi Prize in Poetry.
JENNIFER CLEMENT  is author of the memoir Widow Basquiat  and the novels Prayers for the Stolen, Gun Love, A True Story Based on Lies and The Poison That Fascinates. Clement is the current and first woman President of PEN International. In 1997 she co-founded the San Miguel Poetry Week with her sister, Barbara Sibley.
JAMES FENTON was Professor of Poetry at Oxford from 1994 to 1999.  He was made a Fellow of the Royal Society of Literature in 1983 and was awarded the Queen's Medal for Poetry in 2007. In 2015 he won the PEN Pinter prize. He is currently writing a collection of unusual biographies called PRIVATE LIVES, and a book about pirates for Notting Hill Press. His Collected Poems, Yellow Tulips, were published by Faber & Faber in June 2012.Yellow Tulips is a gathering from four decades of work by a writer described by the Observer as 'the most talented poet of his generation'.
CAROL FROST was born in 1948 in Lowell, Massachusetts. The author of numerous collections of poetry, including Entwined: Three Lyric Sequences (2014), Honeycomb: Poems (2010), The Queen's Desertion (2006), I Will Say Beauty (2003), Love and Scorn: New and Selected Poems (2000), and the chapbook The Salt Lesson (1976), she has received grants from the National Endowment for the Arts and won several Pushcart Prizes.
LUIS ALBERTO URREA, a 2005 Pulitzer Prize finalist for nonfiction and 2019 Guggenheim Fellow, is the author of 18 books. His latest novel, The House of Broken Angels, was a 2018 finalist for the National Book Critics Circle Award, a New York Times Notable Book of the Year and named to many best of the year lists. He won an American Academy of Arts and Letters Fiction award in 2016 for his collection of short stories, among many others.
PEDRO SERRANO (Montreal 1957) is a poet and teaches at UNAM in Mexico DF. He is Director of the Banff International Literary Translation Centre in Canada. He was granted the Guggenheim fellowship in 2007 and the Prix international de poésie Antonio Viccaro, in 2016. His book Peatlands, translated by Anna Crowe and introduced by W.N. Herbert, was published by Arc.